Kaboom Salon | an explosion of style
Owner of Kaboom since April 2014! Eve LaTourette began her career in the salon industry in 2000 after graduating from Grays Harbor Beauty College in Aberedeen, Wa. Eve is educated in and loves all aspects of hair design. Extensively trained in color design and cutting. She has had the pleasure of exploring many areas of the industry from working in small business, corporate, and self-employment. Previously working hand in hand with many of today's leading hairstylist, spending several years educating for Sexy Hair Concepts. As of May 1, 2013 she now calls Kaboom Salon her own. She enjoys personally getting to know each and every one of her clients and hearing the stories they share.
has been dazzling us with her nail skills since July of 2015. However, she has over a decade of experience under her belt. Tonie is highly skilled in the art of gel nails. She uses only the best products our industry has to offer. She works very early mornings and alternating Saturdays to accommodated everyone who works the 9 to 5's. She can often have very full books so expect to sometimes have to wait to get in. The wait is well worth it. Her nail art will knock your socks off!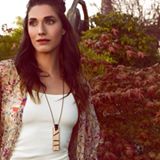 Hairstylist and Make-up! Specializing in weddings.